Journal of Infectious Diseases & Therapy is providing excellent contribution to the scientific community by publishing quality research in the field of microbiology. Since 2013, the Journal has provided common platform for microbiologists and infectiologists to share their knowledge. Journal of Infectious Diseases & Therapy is about to complete its 4th Volume with 6 issues per year.
Google Analytics has declared an amazing statistics regarding the popularity of this journal. There were 39,946 page views and globally 30,688 users have accessed the journal website for information about the journal and the published articles.
Journal of Infectious Diseases & Therapy Web Metrics at Glance: Source: Google Analytics
More than 30,000 Visitors visiting the journal site to read the published articles or to submit their research outcomes
Highest number of Visitors reporting both from the developed and developing nations
Majority of the visitors have come from United States, Philippines, Spain, United Kingdom, India, South Africa, Brazil, Iran, Egypt, and Turkey
The Journal received tremendous attention from the researchers in terms of visits from Madrid, Quezon City, Cebu City, Hyderabad, Davao City, Makati, Manila, Naron, New Delhi etc.
The average Time spent by the visitor for each session is 2.08 Minute
A statistical representation of global users for Journal of Infectious Diseases & Therapy (Source: Google Analytics)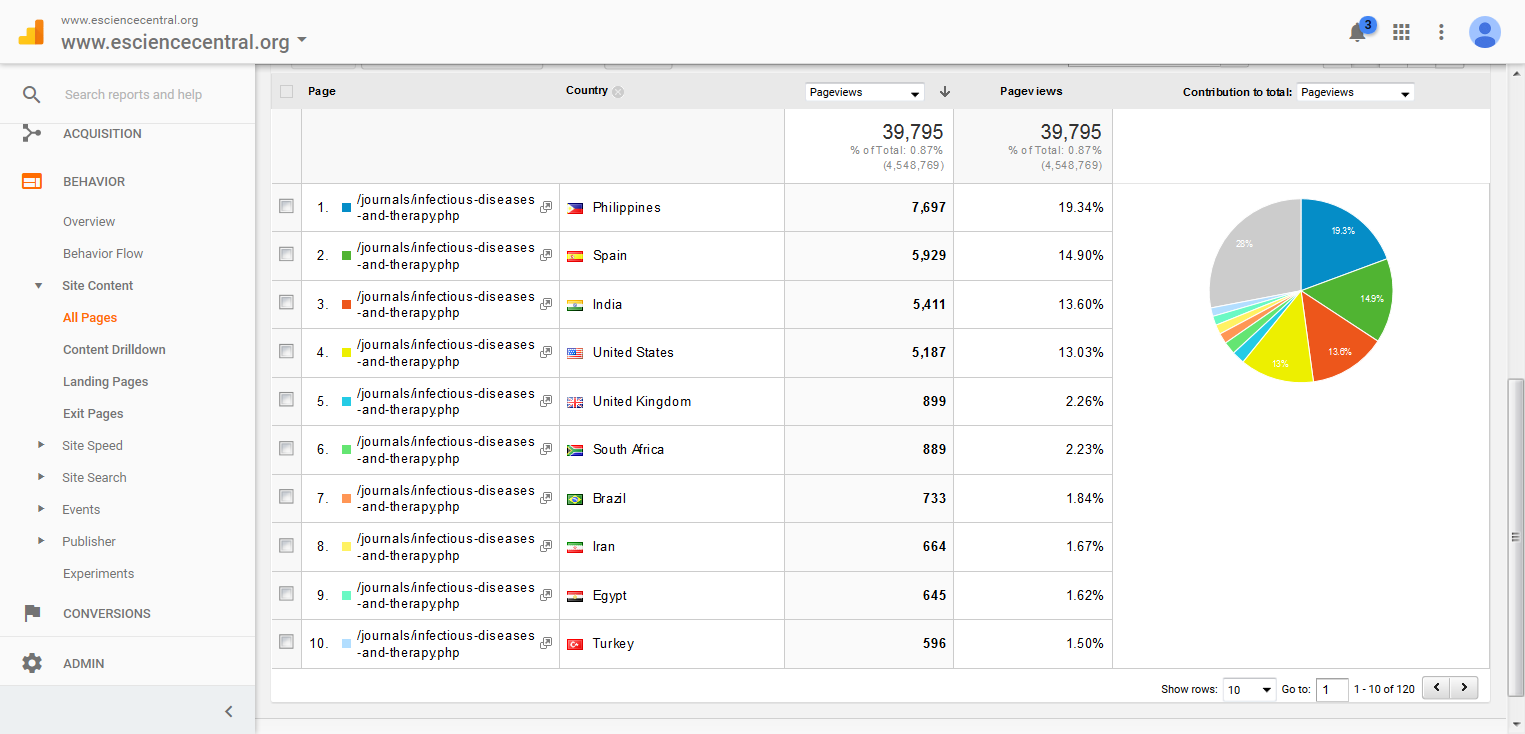 The journal provides an outstanding platform for the researchers to share their research outcomes with the world. The journal has maintained its quality since its inception and thus gets the highest possible readership for its published articles.
A researcher continuously updates his knowledge by going through recent advances in the scientific world as well as by sharing his scientific outcomes. The journal has been outstanding in providing scientists with data on recent developments.
"Maximum exposure – maximum impact" has been the forte of Journal of Infectious Disease and Therapy.
The journal has maintained its quality over the years and for this reason it has been receiving regular citations from microbiologists, infectiologists, academicians, and related professionals.