Clinical Microbiology: Open Access is a journal with extreme potency to provide with all information to its readers about the prognosis & diagnosis of the diseases and its aftermath. Since its inauguration in the year 2012, it has published large number of research articles, reviews and case reports. The journal has become source of knowledge for microbiologists, doctors, researchers, and medical students. Clinical Microbiology: Open Access is running in its 5th volume, with approximately 6 issues per year. The journal in past few years has achieved the confidence and interest of numerous researchers across the globe, to publish and propagate their exiting scientific findings through our journal.
Google Analytics has revealed an amazing statistics regarding the popularity of this journal. The journal has 28,495 page views and 23,235 users globally have been accessed the journal website for information on the journal and the published articles.
Clinical Microbiology: Open Access Web Metrics at Glance: Source: Google Analytics
More than 22,046 Visitors visiting the journal site to read the published articles or submit their research outcomes
Highest number of Visitors reporting both from the developed and developing nations
Majority of the visitors have come from United States, Japan, Italy, United Kingdom, Brazil, China, India, Iran, Philippines and Pakistan.
The Journal received tremendous attention from the researchers in terms of visits from New York, Lagos, Rome, London, Sydney, Osaka, Toronto, Quezon City, Presinge, New Delhi, Hyderabad, etc.
The average Time spent by the visitor for each session is 1.46 Minute.
A statistical representation of global users for Clinical Microbiology: Open Access (Source: Google Analytics)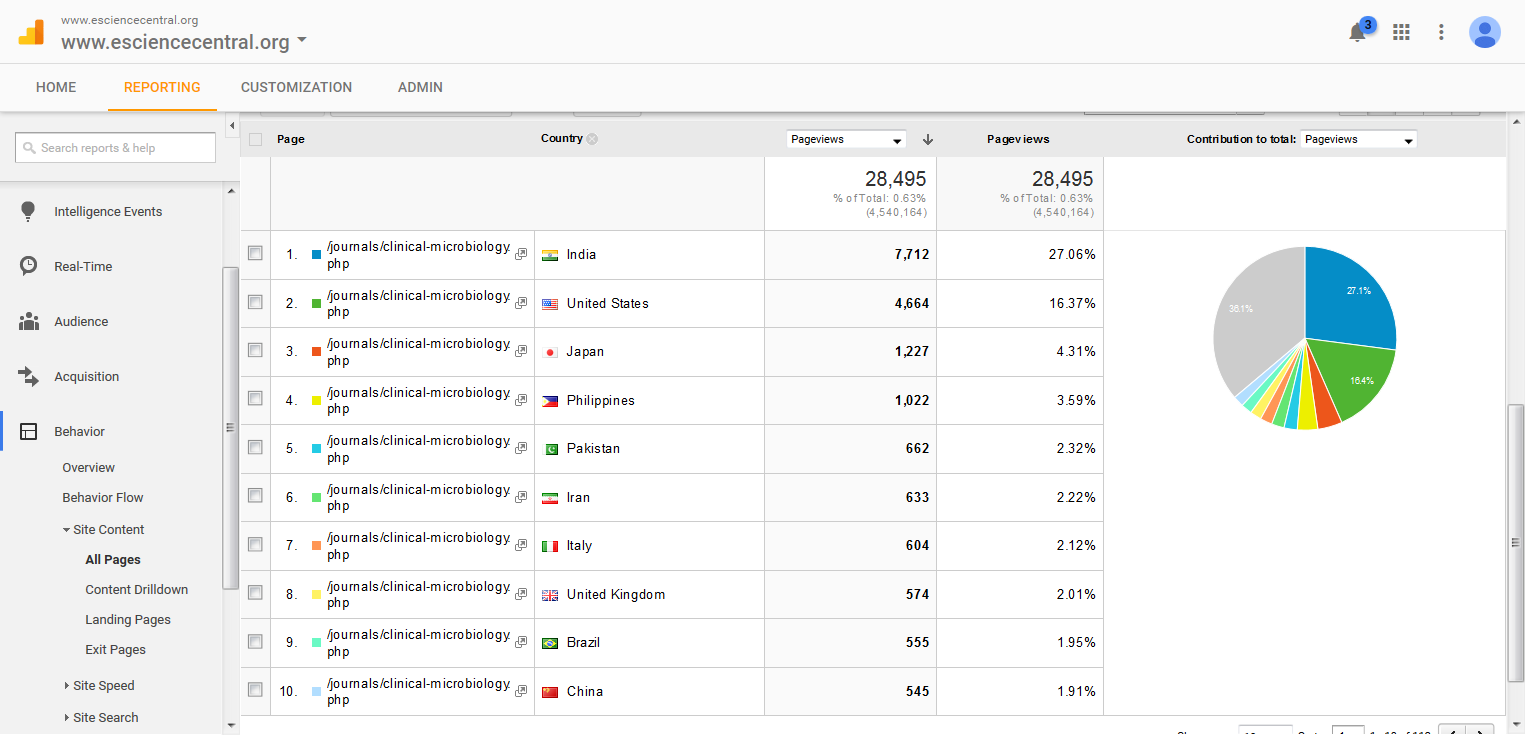 Clinical Microbiology: Open Access is inclined towards publishing the articles from wide diversity and areas of microbiology, infectious diseases and providing better aid towards treatment.
The Journal provides the researchers with various benefits, one being providing a platform for publishing their articles in ~45 day time period with respective authors profile having high visibility and readership from different cities and continents.
The most proficient method for the development of researchers is through their steady contribution as scientific research by getting them published in the relevant journals. Clinical Microbiology has drawn attention from the researchers of around the globe by covering all major areas of research.
The articles published in this journal are receiving attention and regular citations from the microbiologists, pathologists and related professionals.
The journal considers the estimation of every article commitment and consequently, produces phenomenal profile pages for the every author and Institution which helps them to snatch consideration from their peers throughout the world.